October 3rd marks the 'Day of Architecture'. Across the country, municipalities, cultural institutions, developers, design studios and architects celebrated the day by inviting everyone to come and talk, feel, and see architecture.
The Day of Architecture
The theme for 2022 was 'Sense of Place', which refers to an approach where buildings are developed and constructed with a strong focus on the particular identity, qualities and challenges attached to the place in question – the specifics that make the place unique and unlike other places.
At the event, in the Multikulturhus in Sønderborg, one of the Foundation's buildings was recognised in this year's category – namely Sergenten (the Sergeant).
The reasons for the recognition include:
The transformation of the old garage and workshop building at Sønderborg Barracks into an event and conference centre is a fine example of a beautiful and atmospheric revitalisation of an abandoned and defunct building, designed to complement its surroundings and location.

From the jury opinion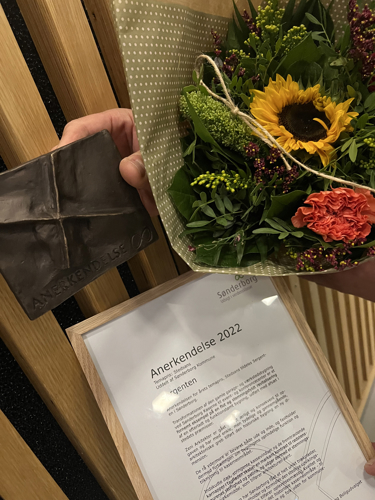 We, at Bitten & Mads Clausen's Foundation, are extremely happy and proud of this wonderful recognition. We would like to thank everyone involved for the great work in realising the project: Zeni Architects, Rambøll, the skilled craftsmen, the staff at Alsik and the suppliers of the high-quality fixtures and furnishing.
Sergenten is part of Steigenberger Alsik Hotel & Spa, which, following its renovation, will complement the hotel's facilities for large conferences, concerts, and events.
In Sergenten, Sønderborg has now gained a unique attraction that not only preserves and conveys the history of its development and surroundings, but also adds memorable quality and architectural diversity to the area of the historic barracks.

From the jury opinion
Watch this beautiful drone film made by the Zeni Architects from inside Sergenten, in which you will see how the bare exterior walls and original roof trusses have been preserved in a new and modern building.