At its latest meeting, the board of Bitten & Mads Clausen's Foundation decided to support the operations of temporary student accommodations in Sønderborg with a total of 5.4 million kroner over a three-year period.
Collaboration made it possible
The costs of establishing Studiebyen (the Student Town) are covered by Sønderborg Municipality, while the Foundation's contribution goes to cover the annual operating costs. These are estimated at 1.8 million kroner and will amount to 5.4 million kroner for the period 2023 to 2025.
The reason for the grant is that SDU in Sønderborg is experiencing high enrolment in its programs and has become the fastest growing university in Denmark. This is an incredibly positive development for the entire region and helps to ensure the important supply chain of well-educated employees for the companies in the region.
However, the overwhelming success has created a bottleneck in the number of rooms in the town. To meet the urgent need, StudieboligSyd and Sønderborg Municipality have established temporary accommodation in the form of modular buildings, which share communal areas with the student accommodation Sønderskov-kollegiet.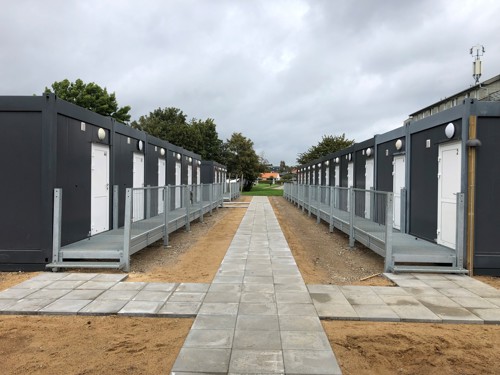 50 student rooms have already been established under the communal name "the Student Town". The plan is for the modular buildings to remain in use until other permanent student accommodations have been established, which is expected to be no later than 2026.
Bitten & Mads Clausen's Foundation is very pleased that Sønderborg has developed into a strong and attractive student town. This has included direct engagement with the area's major companies, and the Foundation has invested in four successful degree programmes: CIE (industrial electronics), CIM (industrial mechatronics), CIS (industrial software) and Nanochem (nano-chemistry). These programmes are all important to both Danfoss and the entire region, helping to attract students and increase the overall numbers. Today, there are close to 2,000 students at SDU in Sønderborg.  
Read more about Studiebolig Syd and their student accommodation in Sønderborg by following this link: