On Friday June 11th, it was finally possible to hold a topping-out ceremony for Kongebrohuset. Due to Covid-19, it had already been postponed twice.
The groundbreaking ceremony took place on June 22nd, 2020, and almost a year later, the construction work is progressing according to schedule. The framework of the luxury apartment complex is now ready with its 3 to 7 floors. The windows have been installed and the kitchens, wardrobes and floors are being fitted.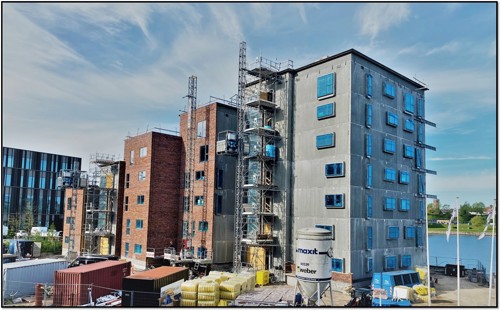 Outside the building, the red brick facade is well under way. During the summer, the large balconies facing the Alssund will be assembled.
At the topping-out ceremony, the craftsmen were thanked for their hard work and commitment. It is thanks to them that the project is on schedule for completion by the end of 2021/start of 2022.
Kongebrohuset is the sixth building construction within Frank Gehyr's masterplan. It symbolises a type of development many towns would envy. It is clear that Sønderborg is showing its star quality. It has a specific interest in investing in its town and in the construction of buildings of high quality. The Kongebrohuset demonstrates this and is helping to set the standard for Sønderborg.

John Knudsen, Project Manager in Bitten & Mads Clausen's Foundation
Architecturally durable expression

The plans for the Kongebrohuset date back to 2014, when CF Møller Architects set out their proposal for a residential building on the site between Alsik and Videnshuset. The expression and the idea behind the design was so outstanding that 6 years later it still feels every bit as good. Bitten & Mads Clausen's Foundation together with A. Enggaard began then to bring those plans to fruition and put up the building.
The 28 apartments within Kongebrohuset have now all been sold, and that in record time. The buyers were all invited to the topping-off ceremony where they were teased that the sale price perhaps had been too low. With their unique position, each apartment has been sold for between 3 and 11 million DDK. The size of the apartments varies between 85 and 220 square meters. Each has its own balcony. In addition, the top apartments have a roof terrace with a hot tub, glass screening and an outdoor kitchen.
The speeches at the topping-out ceremony were brought to an end, when Head of Department of A. Enggaard A/S, Palle Priska, as tradition dictates, smashed a glass whilst saying "Let the house have as many living years as there are shards of glass".